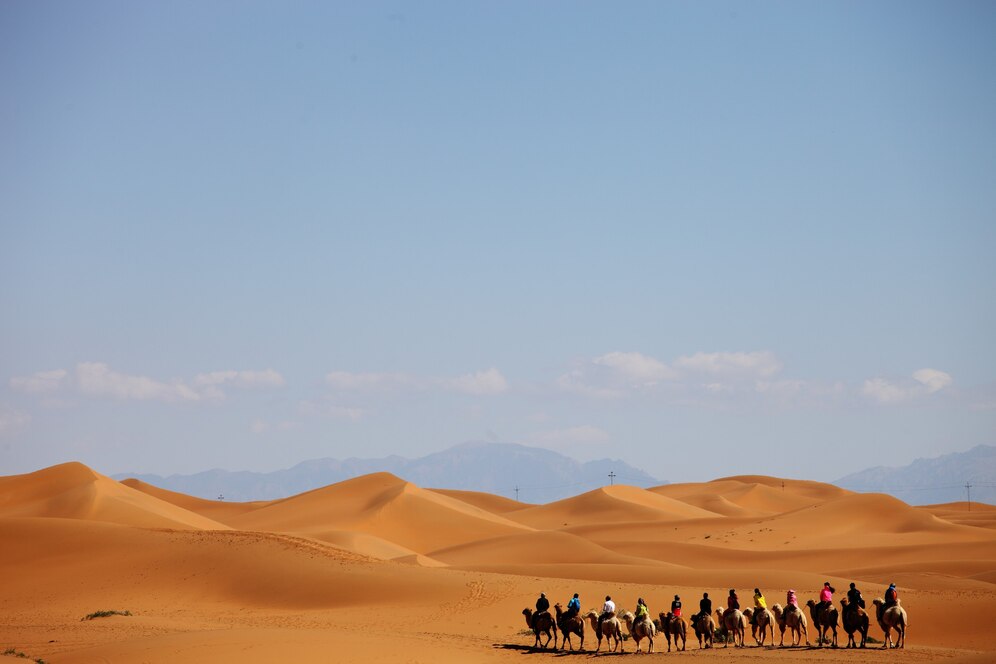 An Ultimate Guide to Thrilling the Dubai Desert Experience with Family and Friends
Dubai is a city famous for its culture, tradition, heritage, and rich history. If you want an adventure and thrilling experience, plan a safari desert Dubai tour and have a lifetime experience. However, Dubai is famous for its beauty and iconic places such as Burj Khalifa, Dubai Mall, Burj Al Arab, and a few others. Still, the beauty and freshness around the Arabian desert will mesmerize and evoke your soul. A luxury desert safari Dubai tour will be an adventurous and thrilling experience. They are known to be an attraction for visitors for the first time. It will be a short journey around the land of the desert, with a roller coaster experience. Book your safari desert Dubai tour with Khat Tourism and plan your vacation with us. Give a read to this ultimate guide for your thrilling Dubai desert experience.
Explore the Dubai Desert with Khat Tourism
Several ways are available to take a luxury desert safari Dubai tour, and you can visit the Arabian desert on a safari in the morning and evening with your family or friends. They are also designed for couples, friends, families, and solo tours. You can have a lifetime experience with your family and friends on the safari tour; thereby, you can try a solo tour with the quad bike or buggy tour with your partner. These morning and evening safaris offer visitors exhilarating experiences. Capturing those unforgettable moments on camera is another aspect of enjoying and making the tour memorable. Let's learn more about the safari tours that Khat Tourism offers visitors.
Abu Dhabi Morning Safari
If you plan your trip to Dubai, Abu Dhabi would be a great place to experience the taste of the desert in the morning. This will be a 4-hour tour where you will experience the mesmerizing sunrise. Sitting in the comfort of a safari, you can travel the rollercoaster dune bashing session around AI Khatim. You can also try sandboarding, another form of snowboarding, and have a refreshing experience.
Sunrise Red Dune Safari
When planning your trip to Dubai, don't forget to add the Sunrise Red Dune Safari Desert Dubai Ride to your bucket list. You can experience a mesmerizing sunrise view from the Arabian Red Dunes in a quiet and relaxing environment. Apart from modern Dubai, a luxury safari desert Dubai tour lets you know this city's real beauty, and your soul will feel relaxed and peaceful.
Evening Red Dune Safari
Dubai is known as the most attractive city. Its urban landscape is famous for its aura and the plethora it conveys to tourists and visitors, helping them feel relaxed and peaceful. In the middle of the desert, plenty of visitors plan a tour to explore this city's unrevealed indoor and outdoor attractions. Don't forget to visit this desert place, which could be an ideal venue for a magical and memorable evening. This desert surrounds the city of Dubai and is characterized by vast expanses of sand and captivating dunes. The most popular and easy way to visit these places is on a safari desert Dubai tour; as you dive into the dunes, you will feel the freshness, and after the sun goes down, an exciting dinner at the traditional Bedouin-style camp awaits you.
Buggy Tour: Lahbab Red Dune Desert
If you are visiting Dubai with your partner for the first time, planning a buggy tour to explore the beauty of the Lahbab Red Dune Desert could be a great idea. Dune buggies are known to be user-friendly and are an easy way to explore the breathtaking red dunes of Dubai. Before going on a tour, visitors are guided through the safe operation of the buggy; it takes a couple of minutes to learn them.
Family-Friendly Morning Safari
This is specially designed for friends and family to explore the beauty of the Arabian deserts. If you have kids with you, with our exclusive safety measures, they will be safe with our unique baby seats and slow-paced, safe dune bashing. You can explore the hidden path of the Arabian Desert and enjoy the morning tour with aesthetically pleasing vibes. Don't forget to carry your cameras to capture these unforgettable moments. The safari driver will guide you through the tour and tell you all the secret facts about the desert and its traditions and culture.
Quad Bike Tour
Self-driving quad bikes or ATV tours in Dubai are the most famous way to explore the desert. The exhilarating experience will take you to the big red dunes of the Arabian Desert. You can stop at the high dunes to capture the moment in your heart and with your lenses, making it unforgettable in your memories.
Make Your Dubai Trip Memorable!
Visiting Dubai and unfolding the beauty of the deserts is a dream-come-true experience for first-time visitors. On this tour, if you are looking for a reliable partner who can guide you through the tour and plan your Dubai vacation accordingly so that you don't miss visiting the best places in the city, Khat Tourism is all set to be your vacation partner to guide you through the visit. We will plan your vacation days and nights to make it a once-in-a-lifetime experience. Book with us now and confirm your vacation with all the schedules and plans in advance. We offer affordable packages with full-proof planning to make you visit all the hidden gems and make them remarkable in your memorable diary.