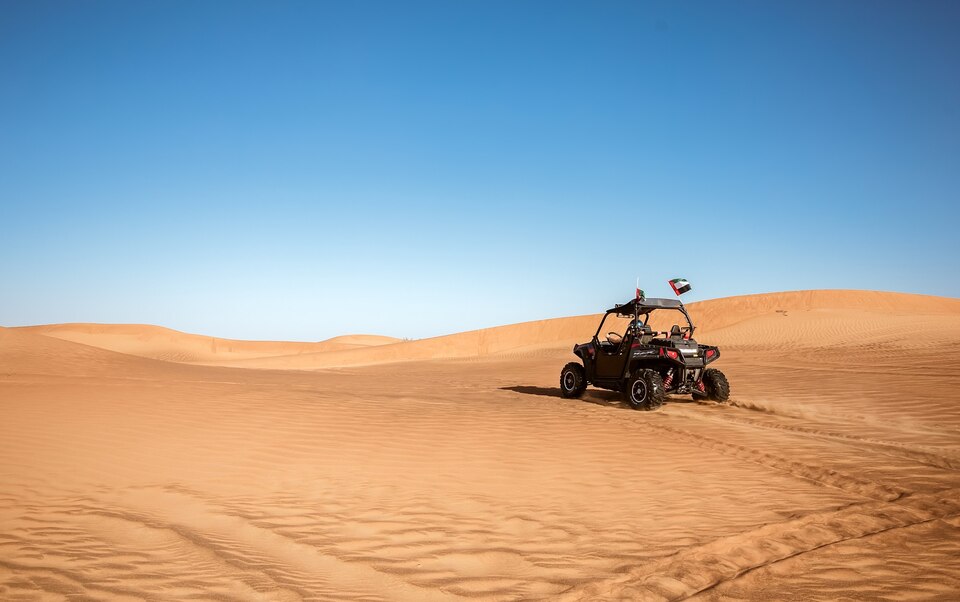 A Step-by-Step Beginner's Guide to Dune Buggy Tour in Dubai
Dubai is the glittering gem of the United Arab Emirates. It has a lot of thrills and excitement for tourists and visitors, with a wide range of adventurous activities to be done during the Dubai vacation. Along with the type of desert activities, water activities, and a few other attractions, buggy tour Dubai is a must to do as they have adrenaline-pumping adventures with a unique blend of exploration. For beginners, those who have started indulging themselves in adventurous activities recently, renting a dune buggy in Dubai and having a ride on the dunes of the Arabian Desert will be fun. Look at this beginner's guide to the dune buggy tour in Dubai.
What is Dune Buggy Dubai?
Dune Buggy Dubai is an off-road vehicle for the rough landscape in the Arab desert. It is a small, open car with a tubular frame, off-road tires, and an adequate engine. They are used in Dubai for desert safaris and adventures; primarily, tourists and visitors love to explore the vast desert in this way. The buggy tour Dubai is famous for the thrill and excitement it provides to the riders riding over the dunes.
Why Take a Buggy Tour in Dubai?
Visitors and enthusiasts looking for adventure and thrills outside their zone must try this buggy tour Dubai, known for its adrenaline rush and unique way to provide excitement and captivate the Arabian Desert to fall in love with the golden desert.
Riding a dune buggy during your Dubai tour will fill you with mesmerization while engaging in the dune activity with high and low off-speed driving. You will experience the breathtaking desert scenery through these buggy tours.
These buggies are nowadays famous among people through social media posts and how influencers promote them through their networks. During their visits, they have these exciting rides and later share them with their fans and followers, which results in a high demand for these activities.
Beginners Guide To Buggy Tour Dubai
If you are a first-time visitor to Dubai and want to try a buggy tour, this is the guide beginners should consider for their first ride.
Select a Tour Operator
A safe and happy buggy tour in Dubai should be your priority. To choose your tour operator, you need to research websites that provide tourist guides with buggy rentals to operate them correctly. Before selecting them, read their ratings and reviews.
Check out their buggies before renting them for your tour; are they kept well under their surveillance? Are they good enough to ride on the pumping dunes, and is everything up to par in the buggy's tires? Their guides are experts and knowledgeable about your guidance.
Check out the different factors, such as pricing, packages, timing of the tour, and everything else, before renting the best and most affordable buggy for your ride.
Book Your Buggy Tour
As there is so much rush in the city for this adventurous activity, book your buggy tour in advance to avoid the hectic schedule followed by the guides. Ask the guide to book your slot in advance according to their preferences when they are free to follow you through the tour. Get the instructions you must follow during the tour and provide them with your required data on time to complete your booking in advance. Don't forget to get a copy of the paid receipt with the booking slot and date.
Take a follow-up before your scheduled date to ensure your visit to them and your booking.
Be Ready For the Ride
Choose loose-fitting and comfy clothes to move quickly to avoid the hassle during the ride. Add goggles, sunscreen, and other safety measures to ensure a safe and happy buggy ride.
Don't forget to carry your camera to record and capture unforgettable moments to cherish forever.
As you know, this ride will be very thrilling yet adventurous in the Arabian Desert. You might feel exhausted; hence, carry your hydration drinks, a water bottle, and plenty of snacks to keep yourself energized and hydrated during the ride.
Guidance After Arrival
Once you arrive, the tourist guide will welcome you for the tour. Be attentive while they brief you about the rules, safety measures, and other essential factors for the tour at the prearranged meeting in the tour operator's office.
The ride briefing is crucial, so listen to it well; it will familiarize you.